MM143 - Flowery Footpath 2
This is the one hundred and forty-third puzzle you'll encounter in Professor Layton and the Miracle Mask. This puzzle can be accessed through Professor Layton's Challenges. In order to solve this puzzle, you must arrange the tiles to create a flower pattern.
[edit]
Messages
[edit]
When Failed
You cannot fail this puzzle.
[edit]
When Completed
Well done!
This flowery footpath may be even prettier than the last one!
[edit]
Solution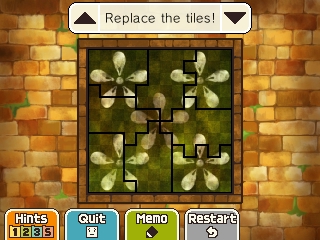 Arrange the tiles as shown.
[edit]
Progress
5520 Picarats and 250 Hint Coins.