MM145 - Merry-Go-Tiles 2
This is the one hundred and forty-fifth puzzle you'll encounter in Professor Layton and the Miracle Mask. This puzzle can be accessed through Professor Layton's Challenges. In order to solve this puzzle, you must move and rotate the tiles to create twelve horses.
[edit]
Messages
[edit]
When Failed
Too bad.
There must be a poor little horsey whose behind isn't the same color as the rest of it...
[edit]
When Completed
You're a neightural!
This pattern works as it is or rotated 90, 180, or 270 degrees!
With all six colors matching, it looks very pleasing to the eye, don't you think?
[edit]
Solution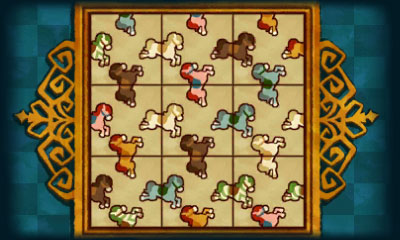 Arrange the tiles as shown.
[edit]
Progress
5660 Picarats and 250 Hint Coins.