North Parade Avenue
North Parade Avenue is a location based in Labyrinthia, seen in the game Professor Layton vs. Phoenix Wright: Ace Attorney. This is where the Storyteller regularly holds his parades, giving the townsfolk their new Story.
[edit]
Appearance
North Parade Avenue's streets are lined with houses and shops, with many tables, wooden boxes and barrels out the front of them. The Great Archive can be seen in the distance.
Chapter 1: Mysterious Labyrinthia
Professor Layton and Luke make their way to North Parade Avenue after hearing a large gathering of people in the area. They inquire about the occasion that was about to happen, to find out the Storyteller was to make an appearance with a new Story.
Once the parade is over, Layton and Luke read the Story from one of the sheets the Knights had thrown about, discovering that a witch was to make an appearance that night. Doubting that the story would become a reality, they cause a panic in the crowd, leading the knights to capture them. Espella calls to them in an alley way, and quickly lose the knights by running to her position.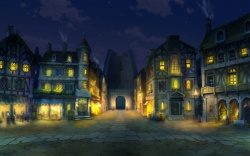 [edit]
Characters in the Area
[edit]
Puzzles