PLAA01 - Paths of Light
This is the first puzzle you'll encounter in Professor Layton vs. Phoenix Wright: Ace Attorney. To access this puzzle, you must examine the bookshelf. In order to solve this puzzle, you must remove certain colored paths so that both witches make it home safely.
[edit]
Messages
[edit]
When Failed
Not quite.
Only two colours will have to be removed to get the witches to their castles.
Try again with this in mind!
[edit]
When Completed
Outstanding!
Both witches managed to cross the colourful paths and find their way home.
[edit]
Solution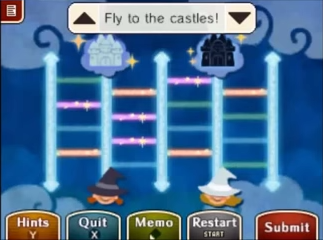 Remove the green and blue paths.
[edit]
Progress
20 Picarats and 33 Hint Coins.