PLAA05 - Help Espella!
This is the fifth puzzle you'll encounter in Professor Layton vs. Phoenix Wright: Ace Attorney. To access this puzzle, you must examine Espella's legs. In order to solve this puzzle, you must choose the correct option that will untie the rope.
[edit]
Messages
[edit]
When Failed
Not quite.
Look carefully and give it another try.
[edit]
When Completed
You did it!
Espella is free!
Just what exactly occurred here?
[edit]
Solution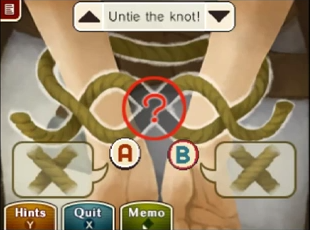 Pick answer B.
[edit]
Progress
135 Picarats and 48 Hint Coins.