PLAA06 - Knight Training
This is the sixth puzzle you'll encounter in Professor Layton vs. Phoenix Wright: Ace Attorney. To access this puzzle, you must talk to the Captain. In order to solve this puzzle, you must make sure all attacks are blocked by shields.
[edit]
Messages
[edit]
When Failed
Incorrect.
"A piece of advice: pay attention to the position of the other knights.
The focus of this training is defence! Make sure each knight is facing a shield!"
[edit]
When Completed
Well done!
"Perfect form! You've done the order proud!
As for the slackers, consider yourselves training overtime until you get it right!"
[edit]
Solution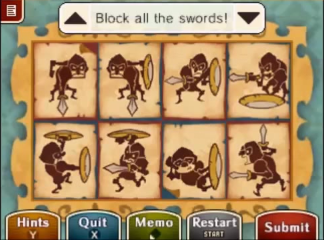 [edit]
Progress
570 Picarats and 51 Hint Coins.