PLAA08 - Map Mishap
This is the eighth puzzle you'll encounter in Professor Layton vs. Phoenix Wright: Ace Attorney. To access this puzzle, you must talk to Bardly. In order to solve this puzzle, you must reconstruct the map.
[edit]
Messages
[edit]
When Failed
Incorrect.
Try and make sure that the streets connect correctly with one another.
[edit]
When Completed
Correct!
You are now fully equipped to explore Labyrinthia! Oh, mappy days!
[edit]
Solution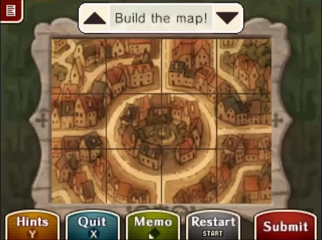 [edit]
Progress
620 Picarats and 57 Hint Coins.