PLAA09 - Marionettes
This is the ninth puzzle you'll encounter in Professor Layton vs. Phoenix Wright: Ace Attorney. To access this puzzle, you must talk to Petter. In order to solve this puzzle, you must reconstruct the puppets so that each one has a head, body, two feet and two hands.
[edit]
Messages
[edit]
When Failed
You cannot fail this puzzle.
[edit]
When Completed
Correct!
The puppets look very pleased to be standing on their feet again!
[edit]
Solution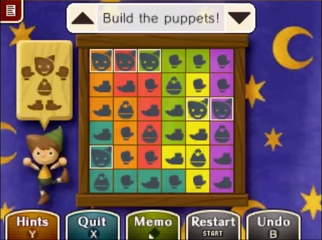 [edit]
Progress
650 Picarats and 60 Hint Coins.