PLAA10 - Shady Shadows
This is the tenth puzzle you'll encounter in Professor Layton vs. Phoenix Wright: Ace Attorney. To access this puzzle, you must talk to the Knight. In order to solve this puzzle, you must figure out which shadow belongs to the knight.
[edit]
Messages
[edit]
When Failed
Incorrect!
"That shadow is but a fiendish imposter! Make haste and put this witchcraft to rest!"
[edit]
When Completed
Excellent!
"The nefarious witchcraft has been thwarted!"
[edit]
Solution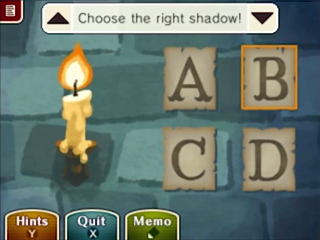 Shadow B.
[edit]
Progress
670 Picarats and 63 Hint Coins.