PLAA11 - The Royal Victim
This is the eleventh puzzle you'll encounter in Professor Layton vs. Phoenix Wright: Ace Attorney. To access this puzzle, you must talk to Price. In order to solve this puzzle, you must figure out which suspect attacked the king.
[edit]
Messages
[edit]
When Failed
Not quite!
Listen very carefully to the testimonies and piece together the sequence of events.
Pay attention to the type of voice heard by everyone in the room.
[edit]
When Completed
Success!
The female voice the prince heard was that of the Knight, who is a woman.
The Knight was the first to enter, followed by the Prince, the Merchant, the Villager and lastly, the Princess.
[edit]
Solution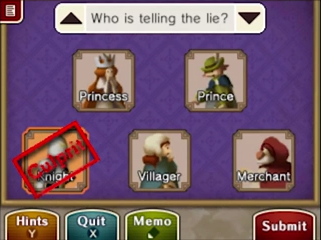 The Knight is the culprit.
[edit]
Progress
700 Picarats and 63 Hint Coins.