PLAA13 - Use Your Loaf
This is the thirteenth puzzle you'll encounter in Professor Layton vs. Phoenix Wright: Ace Attorney. To access this puzzle, you must talk to Maya Fey. In order to solve this puzzle, you must correctly identify the loaf that should not be on display.
[edit]
Messages
[edit]
When Failed
That was the wrong loaf.
Take a closer look at the picture on the upper screen and try again.
[edit]
When Completed
You found it!
Now that's using your loaf!
[edit]
Solution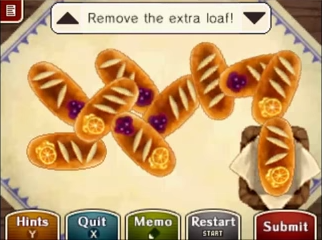 Place the following loaf into the basket.
[edit]
Progress
760 Picarats and 75 Hint Coins.