PLAA22 - Dollhouse Drama
This is the twenty-second puzzle you'll encounter in Professor Layton vs. Phoenix Wright: Ace Attorney. To access this puzzle, you must talk to Cinderellia. In order to solve this puzzle, you must arrange the dolls in certain rooms that fulfill their requests.
[edit]
Messages
[edit]
When Failed
Incorrect!
Be sure to listen carefully to each of the dolls' requests. Fulfil one request and everything will fall into place.
[edit]
When Completed
Correct!
Happy residents make for a happy home!
[edit]
Solution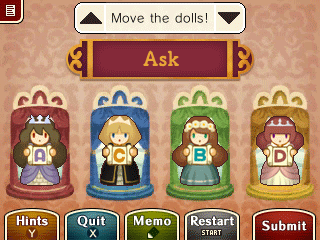 Arrange the dolls as follows.
[edit]
Progress
995 Picarats and 90 Hint Coins.