PLAA23 - Short Round Ride
This is the twenty-third puzzle you'll encounter in Professor Layton vs. Phoenix Wright: Ace Attorney. To access this puzzle, you must talk to Mailer. In order to solve this puzzle, you must choose the correct option for Luke to ride the path safely to the other side.
[edit]
Messages
[edit]
When Failed
Not quite.
The answer is obvious now, isn't it? Give the other option a try and see what happens!
[edit]
When Completed
Success!
You surfed the stars to safety!
[edit]
Solution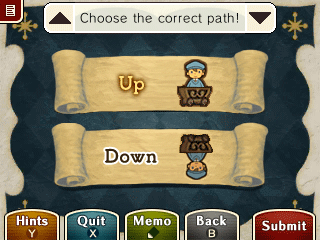 Choose the "Up" option.
[edit]
Progress
1015 Picarats and 90 Hint Coins.