PLAA24 - Pretty Posey
This is the twenty-fourth puzzle you'll encounter in Professor Layton vs. Phoenix Wright: Ace Attorney. To access this puzzle, you must talk to Muffet. In order to solve this puzzle, you must arrange the petals so that each adjacent petal is of the same color or shape.
[edit]
Messages
[edit]
When Failed
You cannot fail this puzzle.
[edit]
When Completed
Beautiful!
What a lovely arrangement of petals. The pixie seems very pleased!
[edit]
Solution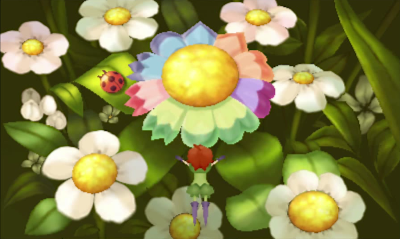 Arrange the petals as shown.
[edit]
Progress
1545 Picarats and 102 Hint Coins.