PLAA25 - Puppy Postal Patrol
This is the twenty-fifth puzzle you'll encounter in Professor Layton vs. Phoenix Wright: Ace Attorney. To access this puzzle, you must talk to Mailer. In order to solve this puzzle, you must guide Constantine around the town to make sure he picks up every letter.
[edit]
Messages
[edit]
When Failed
You cannot fail this puzzle.
[edit]
When Completed
Wonderful!
All the letters have been collected and accounted for! Constantine looks quite pleased!
[edit]
Solution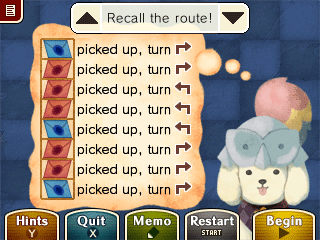 Arrange the letters as follows.
[edit]
Progress
1585 Picarats and 102 Hint Coins.