PLAA26 - Mousequerade
This is the twenty-sixth puzzle you'll encounter in Professor Layton vs. Phoenix Wright: Ace Attorney. To access this puzzle, you must talk to Price. In order to solve this puzzle, you must distinguish the difference between the good and bad mice and separate them into two groups accordingly.
[edit]
Messages
[edit]
When Failed
Incorrect!
Remember, appearances are not always what they seem...
[edit]
When Completed
Micely done!
The mice's clothing and colour are not relevant. The telltale sign was the direction of their tails.
[edit]
Solution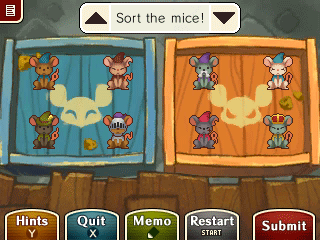 Separate the mice as shown.
[edit]
Progress
1615 Picarats and 102 Hint Coins.