PLAA28 - An Evening Stroll
This is the twenty-eighth puzzle you'll encounter in Professor Layton vs. Phoenix Wright: Ace Attorney. To access this puzzle, you must talk to the Knights. In order to solve this puzzle, you must figure out the path that Eve had taken around town.
[edit]
Messages
[edit]
When Failed
Incorrect.
Pay special attention to the clue given by the knight in the middle.
[edit]
When Completed
Cat-tastic!
It looks as if Eve took a little stroll down to the centre of town. Follow after her!
[edit]
Solution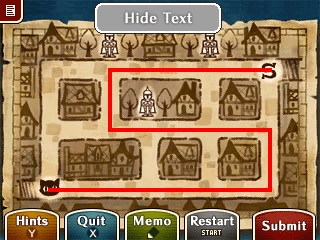 Create the path as shown.
[edit]
Progress
1665 Picarats and 102 Hint Coins.