PLAA30 - Gabbin' Goats
This is the thirtieth puzzle you'll encounter in Professor Layton vs. Phoenix Wright: Ace Attorney. To access this puzzle, you must talk to Mary. In order to solve this puzzle, you must figure out which phrase each goat is saying.
[edit]
Messages
[edit]
When Failed
Not quite.
It can be tricky to differentiate between their voices when they're all talking at once.
Hang in there and try to work out which sound comes from which goat!
[edit]
When Completed
Well done!
Amazing listening skills!
The goats can now understand each other and continue on with their conversations.
[edit]
Step-By-Step Solution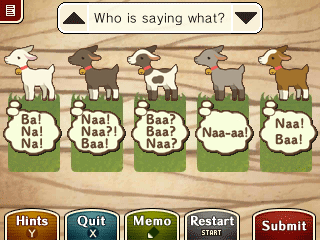 Arrange the speech as shown.
[edit]
Progress
1740 Picarats and 102 Hint Coins.