PLAA31 - Animal Pens
This is the thirty-first puzzle you'll encounter in Professor Layton vs. Phoenix Wright: Ace Attorney. To access this puzzle, you must talk to Old Rootie. In order to solve this puzzle, you must arrange the animals so that they fit in each pen.
[edit]
Messages
[edit]
When Failed
You cannot fail this puzzle.
[edit]
When Completed
Correct!
The trick is that not all of the rooms will be used. Some rooms also require two animals.
Even the simplest puzzle can pose a big challenge.
[edit]
Step-By-Step Solution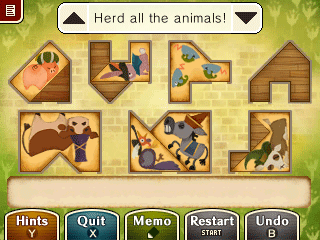 Arrange the animals as shown.
[edit]
Progress
1770 Picarats and 102 Hint Coins.