PLAA32 - Not Standard Issue
This is the thirty-second puzzle you'll encounter in Professor Layton vs. Phoenix Wright: Ace Attorney. To access this puzzle, you must talk to the Knights. In order to solve this puzzle, you must figure out which knight owns the bent sword.
[edit]
Messages
[edit]
When Failed
Incorrect!
That knight's blade is straight.
If you're having trouble, try using the Memo Function to help visualise the swords.
[edit]
When Completed
Correct!
The smallest knight appears to be the one wielding the strange sword.
[edit]
Solution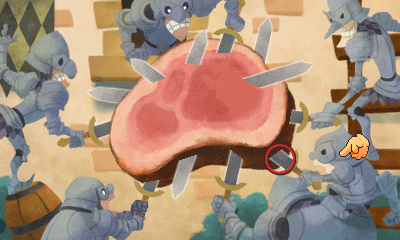 The knight in the bottom-right corner.
[edit]
Progress
1795 Picarats and 105 Hint Coins.