PLAA33 - Street Patrol
This is the thirty-third puzzle you'll encounter in Professor Layton vs. Phoenix Wright: Ace Attorney. To access this puzzle, you must talk to Cutter. In order to solve this puzzle, you must arrange the people so that each square is covered by their vision, but not must overlap each other.
[edit]
Messages
[edit]
When Failed
You cannot fail this puzzle.
[edit]
When Completed
Excellent!
It turns out the dubious-looking gentleman was telling the truth!
[edit]
Solution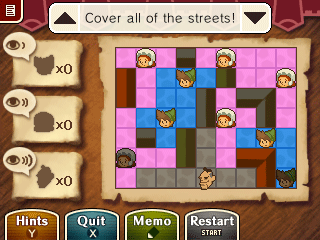 Arrange the people as shown.
[edit]
Progress
1835 Picarats and 108 Hint Coins.