PLAA39 - Train Trouble
This is the thirty-ninth puzzle you'll encounter in Professor Layton vs. Phoenix Wright: Ace Attorney. To access this puzzle, you must talk to Cecil. In order to solve this puzzle, you must arrange the train carriages onto the correct podiums that match their block sets.
[edit]
Messages
[edit]
When Failed
Almost.
Compare the disassembled carriages with their completed forms. Pay special attention to the amount of parts in each.
[edit]
When Completed
Success!
Now the little girl can dry her tears and get right back to playing!
[edit]
Solution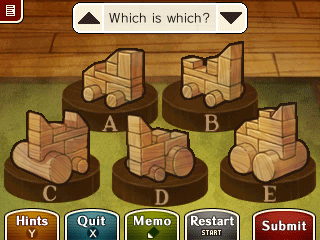 Arrange the carriages as shown.
[edit]
Progress
2040 Picarats and 111 Hint Coins.