PLAA42 - Chalice Challenge
This is the forty-second puzzle you'll encounter in Professor Layton vs. Phoenix Wright: Ace Attorney. To access this puzzle, you must talk to Rouge. In order to solve this puzzle, you must change the direction of the knives to safely slide the red chalice to the other side of the table.
[edit]
Messages
[edit]
When Failed
You cannot fail this puzzle.
[edit]
When Completed
Success!
If you're looking for a tougher challenge, try talking to Rouge. She's bound to have a harder puzzle sitting around somewhere.
[edit]
Solution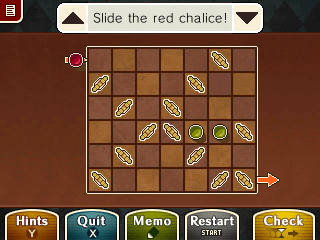 Rotate the knives as shown.
[edit]
Progress
2795 Picarats and 132 Hint Coins.