PLAA44 - More Chalices!
This is the forty-fourth puzzle you'll encounter in Professor Layton vs. Phoenix Wright: Ace Attorney. To access this puzzle, you must talk to Rouge. In order to solve this puzzle, you must rotate the position of the knives to slide the red chalice to the other side of the counter.
[edit]
Messages
[edit]
When Failed
You cannot fail this puzzle.
[edit]
When Completed
Excellent!
That was quite the tricky puzzle.
The professor would most certainly be proud!
[edit]
Solution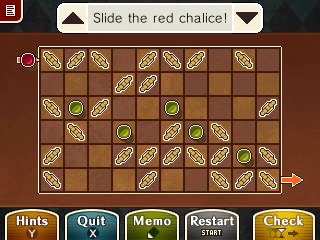 Rotate the knives as shown.
[edit]
Progress
2915 Picarats and 135 Hint Coins.