PLAA45 - Parrot Pairs
This is the forty-fifth puzzle you'll encounter in Professor Layton vs. Phoenix Wright: Ace Attorney. To access this puzzle, you must talk to Bardly. In order to solve this puzzle, you must match up parrots with the same hats, without having lines intersect.
[edit]
Messages
[edit]
When Failed
Incorrect.
Be sure you really take a good look at what type of hat each parrot is wearing.
[edit]
When Completed
Correct!
Each parrot is now paired with a suitable partner.
There are a number of ways to solve this puzzle. Why not try a different solution next time?
[edit]
Solution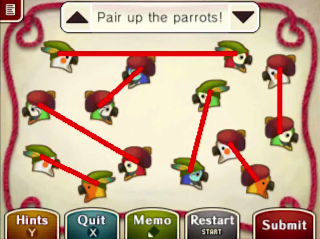 Pair up the parrots as shown.
[edit]
Progress
2945 Picarats and 135 Hint Coins.