PLAA47 - Magical Window
This is the forty-seventh puzzle you'll encounter in Professor Layton vs. Phoenix Wright: Ace Attorney. To access this puzzle, you must talk to Cinderellia. In order to solve this puzzle, you must rotate the tiles to form a picture.
[edit]
Messages
[edit]
When Failed
Not quite.
Be sure to look carefully at the image of the princesses on the upper screen.
Rotate the pieces of glass so that the starlight pattern in the background also lines up correctly.
[edit]
When Completed
Wonderful!
The magical window looks as stunning as the princesses' lovely ballgowns!
[edit]
Solution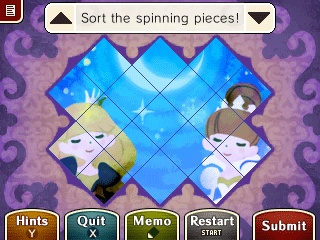 Rotate the pieces as shown.
[edit]
Progress
3010 Picarats and 135 Hint Coins.