PLAA49 - A Hot Secret
This is the forty-ninth puzzle you'll encounter in Professor Layton vs. Phoenix Wright: Ace Attorney. To access this puzzle, you must inspect the Fire Pit Mechanism. In order to solve this puzzle, you must place each part into the mechanism correctly.
[edit]
Messages
[edit]
When Failed
You cannot fail this puzzle.
[edit]
When Completed
Success!
With a dull thud, the cage begins to lower...
[edit]
Solution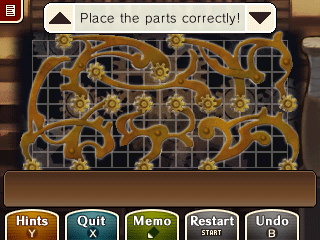 Place the pieces as shown.
[edit]
Progress
3070 Picarats and 138 Hint Coins.