PLAA56 - Marionettes 2
This is the fifty-sixth puzzle you'll encounter in Professor Layton vs. Phoenix Wright: Ace Attorney. To access this puzzle, you must examine the leftmost torch. In order to solve this puzzle, you must assemble each puppet, making sure each has a head, body, two hands and two feet.
[edit]
Messages
[edit]
When Failed
You cannot fail this puzzle.
[edit]
When Completed
Correct!
Don't let their scary faces put you off. They're really very grateful for you help!
[edit]
Solution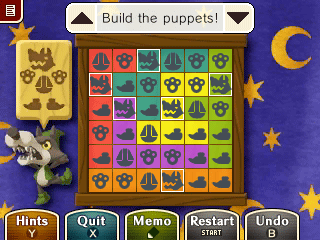 Assemble the puppets as shown.
[edit]
Progress
3350 Picarats and 173 Hint Coins.