PLAA57 - Objectionable Lock
This is the fifty-seventh puzzle you'll encounter in Professor Layton vs. Phoenix Wright: Ace Attorney. To access this puzzle, you must examine the large door. In order to solve this puzzle, you must find a way to unlock the door with the key.
[edit]
Messages
[edit]
When Failed
You cannot fail this puzzle.
[edit]
When Completed
Correct!
The key fits perfectly into the hole, once it's broken into smaller pieces.
As the massive door opens, you can feel the presence of another puzzle...
[edit]
Step-By-Step Solution
Insert the key in the hole from both sides.
Insert the key in the hole using the key's handle.
Tap the "Hold It!" button.
Choose the answer "The "key" is in the key itself".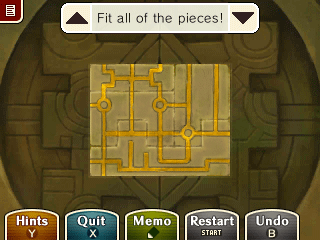 Arrange the pieces as shown.
[edit]
Progress
3400 Picarats and 176 Hint Coins.