PLAA58 - Monster Dash
This is the fifty-eighth puzzle you'll encounter in Professor Layton vs. Phoenix Wright: Ace Attorney. To access this puzzle, you must examine the right side of the sealed way of the ruin. In order to solve this puzzle, you must create a single path that reaches every bomb, with the golden bomb at the end.
[edit]
Messages
[edit]
When Failed
You cannot fail this puzzle.
[edit]
When Completed
Fantastic!
The beginning is the most important part of these types of puzzles.
Start off strong and you have nothing to fear!
[edit]
Solution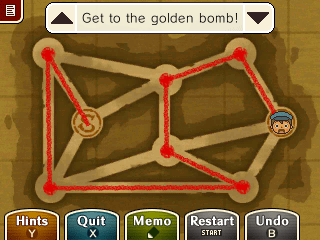 Create the path as shown.
[edit]
Progress
3420 Picarats and 179 Hint Coins.