PLAA59 - Seal of Leviathan
This is the fifty-ninth puzzle you'll encounter in Professor Layton vs. Phoenix Wright: Ace Attorney. To access this puzzle, you must examine the river in sealed way of the ruins. In order to solve this puzzle, you must balance the stones on the platforms so that each one is at an even height.
[edit]
Messages
[edit]
When Failed
You cannot fail this puzzle.
[edit]
When Completed
Success!
That's one seal cleared!
Now the real challenge begins...
[edit]
Solution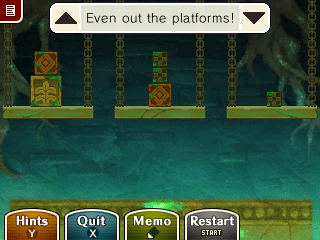 Arrange the stones as shown.
[edit]
Progress
3450 Picarats and 179 Hint Coins.