PLAA61 - Seal of Sages
This is the sixty-first puzzle you'll encounter in Professor Layton vs. Phoenix Wright: Ace Attorney. This puzzle is automatically accessed after solving Seal of Despair. In order to solve this puzzle, you must place the correct slabs onto the pedestal to light up the seal.
[edit]
Messages
[edit]
When Failed
You cannot fail this puzzle.
[edit]
When Completed
Wonderful!
You can finally continue on to the deepest depths of the ruins!
[edit]
Solution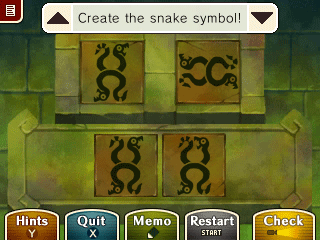 Place the following slabs on the pedestal.
[edit]
Progress
3540 Picarats and 179 Hint Coins.