PLAA64 - The Bell Tower
This is the sixty-fourth puzzle you'll encounter in Professor Layton vs. Phoenix Wright: Ace Attorney. To access this puzzle, simply enter the Bell Tower and it will begin automatically. In order to solve this puzzle, you must make both red gems light up at the same time.
Note
This puzzle can not be solved on the first try, the answer is revealed during the second attempt.
[edit]
First Attempt
[edit]
Second Attempt
[edit]
Messages
[edit]
When Failed
You cannot fail this puzzle.
[edit]
When Completed
Success!
As the red gems shine with an intense light, the larger gem on the pillar begins to emit a glaring light...!
[edit]
Solution
[edit]
First Attempt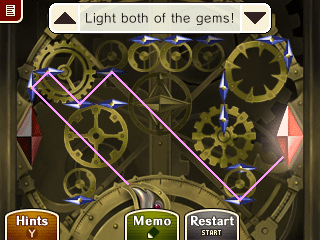 Arrange the gears as shown.
[edit]
Second Attempt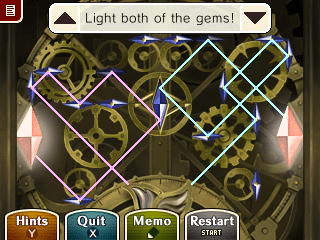 Arrange the gears as shown.
[edit]
Progress
3670 Picarats and 188 Hint Coins.