PLAA68 - Musical Score
This is the sixty-eighth puzzle you'll encounter in Professor Layton vs. Phoenix Wright: Ace Attorney. To access this puzzle, you must examine the piano in the Storyteller's Room. In order to solve this puzzle, you must correctly align the musical notes.
[edit]
Messages
[edit]
When Failed
Incorrect.
The stars and the music notes seem to be related, but how?
[edit]
When Completed
Superb!
A loud bang rings through the air as the celestial globe adorning the ceiling begins to move...
[edit]
Solution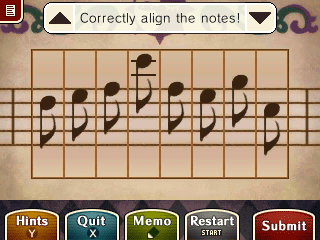 Arrange the music notes as shown.
[edit]
Progress
3840 Picarats and 200 Hint Coins.