PLAA71 - Mixing Master
This is the seventy-first puzzle you'll encounter in Professor Layton vs. Phoenix Wright: Ace Attorney. This puzzle can be accessed through the first special episode once downloaded in the Extra Content section. In order to solve this puzzle, you must turn the correct knobs to mix the red and green juice.
[edit]
Messages
[edit]
When Failed
Too bad.
It looks as if the green juices mix with the red juice in the pipes on the left-hand side.
[edit]
When Completed
Wonderful!
The princess seems most pleased with the results!
[edit]
Solution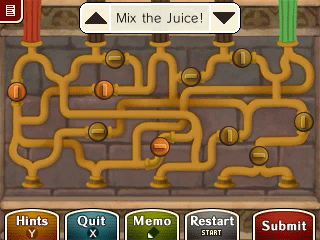 Turn the knobs as shown.