PLAA74 - Enchanted Sums 2
This is the seventy-fourth puzzle you'll encounter in Professor Layton vs. Phoenix Wright: Ace Attorney. This puzzle can be accessed through the fourth special episode once downloaded in the Extra Content section. In order to solve this puzzle, you must arrange the marbles so that the sum of each triangle adds up to 42.
[edit]
Messages
[edit]
When Failed
You cannot fail this puzzle.
[edit]
When Completed
Zvarri!
That's some ace addition work!
[edit]
Solution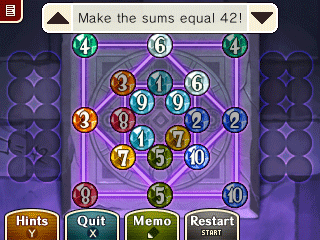 Insert the marbles as shown.