PLAA77 - Monster Dash 2
Monster Dash 2


Puzzle Number
77
Puzzle Name
Monster Dash 2
Type
Draw Path
Location
Special Episodes
Released
(UK)20th June 2014
(US)21st November 2014
Previous Puzzle
PLAA76 - Guest Again
Next Puzzle
PLAA78 - Mouse Mayhem 2
This is the seventy-seventh puzzle you'll encounter in Professor Layton vs. Phoenix Wright: Ace Attorney. This puzzle can be accessed through the seventh special episode once downloaded in the Extra Content section. In order to solve this puzzle, you must create a path that passes every bomb, leaving the golden bomb at the end.
[edit]
Messages
[edit]
When Failed
You cannot fail this puzzle.
[edit]
When Completed
Fantastic!
The beginning is the most important part of these types of puzzles.
If you start off on the right foot, you'll have nothing to fear!
[edit]
Solution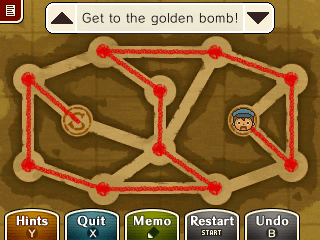 Create the path as shown.