Pen Pals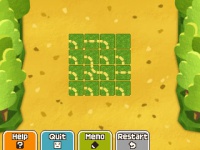 Pen Pals is a set of daily puzzles released for Professor Layton and the Miracle Mask. This is the fifth set of daily puzzles that were revealed.
"In a sunny place far, far away, the animals are looking for a new place to stay! Give them a nice, safe pen to live in!"
[edit]
How to Solve
Simply touch a tile to rotate it 90 degrees clockwise.
You must rotate each tile so that the fences connect into a single enclosure to solve the puzzle.
[edit]
List of Puzzles