Perilous Voyage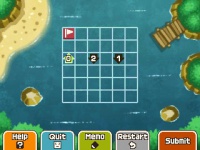 Perilous Voyage is a set of daily puzzles released for Professor Layton and the Miracle Mask. It is the tenth set of daily puzzles that were revealed.
"Calm waters, blue sky... Yet the perils of the ocean are many. We must map out a safe path lest ships who follow in our stead should be dashed upon the rocks! All hands on deck!"
[edit]
How to Solve
Arrows indicate how many rocks lay in a particular direction. Tap a square to lay a rock down. Rocks can also hide in spaces where there are no arrows pointing towards it, however rocks cannot be placed directly next to each other. Arrows will be highlighted green when the right amount of rocks laid is achieved.
Starting and ending from the flag, trace a path on the touch screen for the boat to travel, while avoiding the rocks. Branches or overlaps are not allowed, and the line will be highlighted red if this occurs.
You must fill in every blank square, making sure to make the boat travels in every square that doesn't contain rocks or arrows to solve the puzzle.
[edit]
List of Puzzles