Pirates in Peril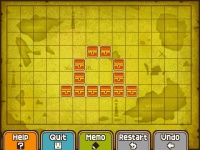 Pirates in Peril is a set of daily puzzles released for Professor Layton and the Azran Legacy. It is the twelfth set of daily puzzles. This set is similar to the Food Chain set from Professor Layton and the Miracle Mask.
"Search for treasure in your brig - but mind the kraken!"
[edit]
How to Solve
To set the pirate brig on its voyage, touch a treasure chest on the Touch Screen. From there, the brig can move to any other cheats horizontally or vertically. After making the first move, the kraken will appear on the brig's trail, and so it will be unable to backtrack.
You must collect all the treasure cheats to solve the puzzle.
[edit]
List of Puzzles