Precious
Precious is a dog that appears in the game Professor Layton and the Diabolical Box. Precious is in the same location as Hopper throughout the duration of the team's investigation in Folsense, this is the Alley Entrance.
[edit]
Appearance
Precious is a male, pug breed dog that has an angry facial expression until Professor Layton feds him.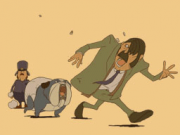 Precious bites Luke Triton when the duo tries to get past to the northeastern part of Folsense. Unable to budge Precious, they go to Folsense's general store owned by Garland and have to solve a puzzle to get a meat shank and lure it away so they can continue in their investigation.
After giving Precious the meat shank, he stays clear of the entrance.

[edit]
Biography
"Precious guards the path to the northeast part of Folsense. He's very wary of strangers but is by no means an aggressive dog. In fact, he warms up to you awfully quickly if you bring him a snack."