Queens Bar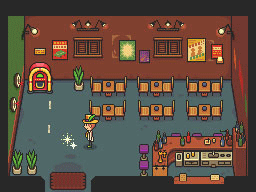 The Queen's Bar is a location which is found in the side-game Professor Layton's London Life. The bar is managed by Anita and Crumm also works here.Ilyana believes that the Bar portrays a young feel and so does attract young people, the regulars indicate otherwise.
The Queen's Bar's regulars include the likes of Bostro and Ilyana, who are deemed as quite old in their first appearance in the Professor Layton Series. The bar has a jukebox and a total of six tables and four chairs to each table, making it look like a regular small bar, finished off with three plants.
Last edited by
Aurigae
on 11 August 2012 at 09:53
This page has been accessed 74 times.