Say Cheese!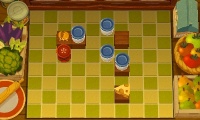 Say Cheese! is a set of daily puzzles released for Professor Layton and the Azran Legacy. It is the fifth set of daily puzzles.
"Go on a kitchen adventure and make your way to the cheese!"
[edit]
How to Solve
Move the hamster on the top screen either by touching the arrows on the Touch Screen or by pressing the D-Pad. Jars can be pushed off boxes and are able to be walked across. Lifts are able to be used to elevate or lower the hamster, and all lifts operate at the same time.
You must line up the jars to reach the cheese to solve the puzzle.
[edit]
List of Puzzles