Shmelmey
Shmelmey is often with his 'Bruv' Shmarton and shares a resemblance to Inspector Chelmey in many ways. Shmelmey appears in the game Professor Layton and the Unwound Future.
[edit]
Appearance
Shmelmey wears a brown suit and a white top. He has a serious look on his face.
[edit]
Puzzles
Shmelmey gives the following puzzles in Professor Layton and the Unwound Future: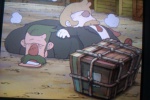 Luke's parrot who mimics Bostro's voice tells the 'bruvvs' to switch positions. Thinking the voice is coming from a rather angry Bostro, both Shmelmey and Shmarton switch positions, dreading their fate with him.
At the end of the game, Shmarton and Shmelmey are seen being knocked unconscious by a crate, letting the group progress in the Research Facility. The progression would not be possible if the duo were standing in their way.

[edit]
Biography
"Shmelmey is a rough gangster who works for Bostro. Though somewhat stronger than his brother Shmarton, he frequently incurs his boss's wrath and can often be heard grumbling about him."
[edit]
Trivia
[edit]
Gallery