Simon Reinhold
Simon Reinhold is a minor character in Professor Layton and the Curious Village, and the nephew of Baron Reinhold.
[edit]
Appearance
Simon has short brown hair, with big red glasses. He wears a white undershirt, with an orange vest over the top, and a white top over all of that. He also wears a red bow-tie. Simon wears white pants, and red shoes, matching his bow-tie.
[edit]
Personality
Simon is seen as a snobby and skeptical person, and often is seen to not trust many people. However, he is liked by many people, according to his uncle, Gordon Reinhold.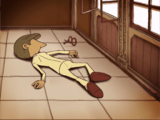 When he appears to die early on in the game, Professor Layton and Luke are questioned by Inspector Chelmey about it, and when Layton is accused of the murder he reveals that the "Inspector" is actually Don Paolo in disguise.
Simon, like almost everyone else in St. Mystere, is a robot and therefore isn't dead, merely broken. He is fixed during the end credits and surprises Ramon when he returns.

[edit]
Biography
"Needing maintenance, Simon collapses, leading all to believe that he's been murdered. Don Paolo finds his body and hides it. Later, however, Bruno finds Simon and restores him to working order."