St Bronto's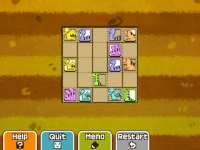 St Bronto's is a set of daily puzzles released for Professor Layton and the Miracle Mask. It is the fifteenth set of daily puzzles that were revealed.
"The Archaeopteryx crowing signals the end of school for these knowledge-hungry dinosaurs. Each one makes its way home, avoiding confrontation. Better safe than sautéed."
[edit]
How to Solve
Lead each baby dinosaur into its mother's territory. Touching a dinosaur will highlight its mother's territory. Slide the baby dinosaurs to an empty square in its territory to safely bring it home. Some dinosaurs will have siblings.
No paths can be crossed, so each route will have to be drawn out carefully.
You must guide all the baby dinosaurs home safely to solve the puzzle.
[edit]
List of Puzzles