Sun, Sand and Turtles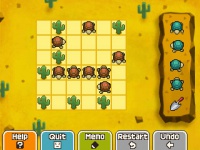 Sun, Sand and Turtles is a set of daily puzzles released for Professor Layton and the Miracle Mask. It is the eighteenth set of daily puzzles that were revealed.
"The desert weren't so bad, really. They 'ad these oases and whatnot. Always a pair o' turtles around them oases too. Beautiful place, but by 'eck were it scorching!"
[edit]
How to Solve
Slide turtles on the right of the screen into the grid with the stylus. Slide the shovel into an empty grid square to dig an oasis.
All turtles must face each other in pairs. Between each pair of turtles must be at least one oasis. The pairs of turtles must not be placed where a cactus will come between them.
You must fill every grid square with either a turtle or an oasis, with each oasis being between a pair of turtles, to solve the puzzle.
[edit]
List of Puzzles
| Puzzle | EU Release | NA Release | Difficulty |
| --- | --- | --- | --- |
| 080 - Sun, Sand and Turtles 1 | 01/13/13 | 01/15/13 | ★ |
| 090 - Sun, Sand and Turtles 2 | 01/23/13 | 01/25/13 | ★ |
| 096 - Sun, Sand and Turtles 3 | 01/29/13 | 01/31/13 | ★ ★ |
| 101 - Sun, Sand and Turtles 4 | 02/03/13 | 02/05/13 | ★ ★ |
| 121 - Sun, Sand and Turtles 5 | 02/23/14 | 02/25/13 | ★ ★ ★ ★ |
| 126 - Sun, Sand and Turtles 6 | 02/28/13 | 03/02/13 | ★ ★ ★ |
| 135 - Sun, Sand and Turtles 7 | 03/09/13 | 03/11/13 | ★ ★ ★ ★ ★ |
| 180 - Sun, Sand and Turtles 8 | 04/23/13 | 04/25/13 | ★ ★ ★ ★ ★ |
| 185 - Sun, Sand and Turtles 9 | 04/28/13 | 04/30/13 | ★ ★ |
| 188 - Sun, Sand and Turtles 10 | 05/01/13 | 05/03/13 | ★ ★ ★ |
| 190 - Sun, Sand and Turtles 11 | 05/03/13 | 05/05/13 | ★ ★ ★ ★ |
| 255 - Sun, Sand and Turtles 12 | 07/07/13 | 07/09/13 | ★ ★ |
| 258 - Sun, Sand and Turtles 13 | 07/10/13 | 07/12/13 | ★ ★ ★ |
| 260 - Sun, Sand and Turtles 14 | 07/12/13 | 07/14/13 | ★ ★ ★ ★ |
| 310 - Sun, Sand and Turtles 15 | 08/31/13 | 09/02/13 | ★ ★ ★ ★ ★ |
| 315 - Sun, Sand and Turtles 16 | 09/05/13 | 09/07/13 | ★ ★ ★ ★ ★ |
| 320 - Sun, Sand and Turtles 17 | 09/10/13 | 09/12/13 | ★ ★ ★ ★ |
| 325 - Sun, Sand and Turtles 18 | 09/15/13 | 09/17/13 | ★ ★ ★ |