Sunken Treasure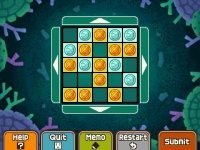 Sunken Treasure is a set of daily puzzles released for Professor Layton and the Azran Legacy. It is the fifteenth set of daily puzzles.
"Divide up the gold and silver coins on the ocean floor."
[edit]
How to Solve
Each area of the seabed must be divided into both a gold and silver area, and should be continuous. Tapping a tile once will turn it gold, tapping it twice will make it silver, and tapping it three times will make it blank. To get a better view to see if both areas are continuous, the arrows on the outer frame can be tapped to scroll through the area, as the edges are all connected.
You must make both a continuous gold and silver area to solve the puzzle.
[edit]
List of Puzzles