Sweet Truth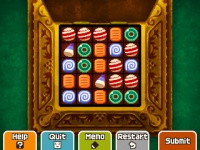 Sweet Truth is a set of daily puzzles released for Professor Layton and the Miracle Mask. It is the twelfth set of daily puzzles that were revealed.
"Oh no, this just won't do! Have you ever seen sweets arranged in such a dreadfully haphazard way? Oh, my poor babies. Well? Don't just stand there! Sort it out!"
[edit]
How to Solve
Touch a sweet to remove it from the box, and touch it again to put it back.
There should not be more than one of the same sweet in a row or column. The sweet will sparkle when it is the only kind in its row and column. There should not be two blank spaces next to each other in the box, either.
You must remove the right sweets from the box to solve the puzzle.
[edit]
List of Puzzles