The Alchemist's Lair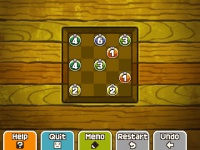 The Alchemist's Lair is a set of daily puzzles released for Professor Layton and the Miracle Mask. This is the first set of daily puzzles that were revealed.
"In a dank, abandoned basement, a group of alchemists study to this day, experimenting with chemicals of multitudinous colors, all in the hope of turning lead to gold."
[edit]
How to Solve
You must slide the stylus from one flask to another to connect them with a glass tube. You are able to connect two flasks up with up to two glass tubes, and must not cross each other. If you want to remove a tube, simply tap it.
The numbers on each flask represents how many glass tubes are required to be connected to it. When the right number is achieved, the flask will turn blue. It will turn red if there is too many glass tubes connected to it, however.
You must connect every flask to each other with glass tubes and make every flask turn blue in order to solve the puzzle.
[edit]
List of Puzzles